We can create the durability and look  of cut limestone with substantial weight and cost savings. Utilizing  a proprietary decorative crushed limestone plaster. The limestone coating can be placed on vertical or horizontal surfaces in-situ, and  finished to your specifications by our trained plaster artisans. We have full control over color, texture, finish (distressed, polished, honed, sandstone,tumbled, travertine effects etc.) to any customers specifications, creating virtually any architectural elements desired
The limestone plaster mixture is  sprayed or troweled  over any type of interior and exterior substrates (i.e., drywall, brick, tile, concrete, brown coat, foam)  We  then work the plaster by hand to achieve the desired pattern and texture.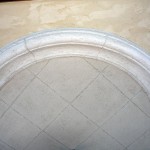 Here's the final look, completely done by hand, 2 days from conception to completion.
This particular project we were asked to create a tumbled and aged limestone effect, here's a sampling of some of the processes involved ,the final outcome is completely in the hands of the skilled artisan plasterer.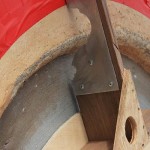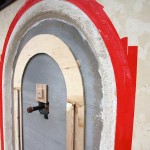 First we confirmed the profile required with the Architect and designers , and constructed a template to suit there needs. The template is mounted to the horse and we then proceeded with the layout and finally the formation of the arch molding itself.
Limestone Plaster
A snippet of lime plaster History:
Since Roman times, lime putty mortars and limestone plaster have been used widely for internal ( today, venetian plaster and marmorino's  are still being made from this same lime putty )and external plastering and stonework. For external rendering and stucco, greater compressive and tensile strengths were achieved by adding various forms of pozzolans to lime based mortars.. burnt clay, volcanic ash, ( tuff ) brick dust, all such additives react with lime putty's to form cementitous "mortars"
Limestone containing clay were also burnt to produce hydraulic limes (NHL) these set by reaction with water and by carbonisation of the lime.
Using hydraulic lime in the above project we saved the owners time, which equates to money …and we all like saving money …right?
Producing details in-situ such as the archway described on this Vancouver plaster project… is  versatile, adaptable and flexible! Giving the Architect,the Designer and the homeowner  design freedom,with both color and texture, with large pieces or building facades there is a further cost savings on engineering and construction costs associated with weight.
Compare this to having the architectural limestone  detail cast in cement or concrete,making molds, trucking and other logistics…or having the detail carved,which is the smarter alternative? Id say hiring a knowledgeable plaster and stucco contractor experienced with limestone plaster is the right move.